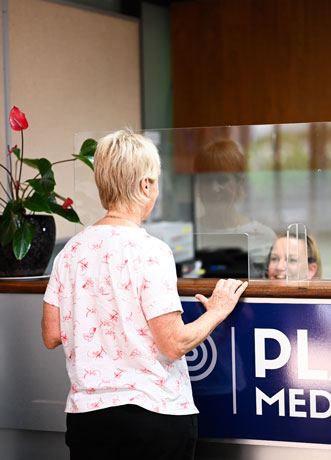 Platinum Medical Centre is a one stop medical Center with doctors who listen and care for the entire family and focus on both urgent medical needs and preventive health care.
We are an AGPAL-accredited practice, which means we have met all the quality standards of an independent assessment body and provide a high level of care. We are a fully computerised practice with broadband access and adhere to prescribed guidelines to maintain data safety.
The practice is open to accepting new patients and will assist in matching your individual needs to the relevant practitioner.
Express Appointments
These appointments are ONLY for repeat scripts/ referrals /influenza or other booster doses of vaccines and not for a full consultation. We endeavour to schedule these appointments on the same day or within 1 working day.
After Hours Medical Care
After hours medical care is provided by an accredited locum service – HOME DOCTOR SERVICE
To request a home visit when practice is closed call 1137425 9 SICK
In case of an emergency dial 000
Parking
There is ample customer parking available via Thomas street and on street parking on Gympie Road.
Disabled Access
The practice building has access to a ramp from the street level to allow entry for wheelchairs or ambulance stretchers.
Repeat Scripts & Referrals
An appointment is necessary for these services; however, these may be issued without a visit if an attendance at the practice was in the last 3 months. There is a fee between $10-$25 to cover administrative costs and we request a 24-hour notice for provision of these. These may be requested online by visiting here or by calling us on .
Home Visits
These are offered on a limited basis to the frail and elderly living within a 3 km radius of the practice.
Reminders / Recalls
The practice has a system of recalling patients for significant pathology results and reminders for regular health checks.
Test Results
All test results are given in person during a consultation and not over the phone with the exception of normal Pap smear results.
Cancellation Policy
We encourage cancellation of your appointment at least 24 hours in advance. Recurrent failure to show up for an appointment may incur a fee of between $30-$60 depending on the length of the appointment missed.
Interpreter Service
The practice offers the service of interpreters through TIS if prior notification is done at least 24 hours in advance of the appointment.
Transfer of Records
Transfer of records to another practice can be arranged after a written authority is received. There is an administrative fee of $20-$40 depending on the size of the file and postage cost. This fee is to cover administrative costs.
Complaint Process
We encourage feedback and complaints and endeavour to resolve these to the best of our ability.
If you are not happy with any aspect of service provided to you there is an option to make a formal complaint through the Office of Ombudsman (OHO) if you feel the matter has not been dealt with by the practice to your satisfaction.
The Health Ombudsman of Queensland is a statutory position that oversees the Office of the Health Ombudsman and acts independently, impartially and in the public interest.
The Health Ombudsman is responsible for:
Receiving health service complaints and deciding on the relevant action to deal with them
Identifying and dealing with health service issues by taking relevant action, such as undertaking investigations or inquiries
Identifying and reporting on systemic issues in the way health services are provided, including their quality
Website: www.oho.qld.gov.au
Email: [javascript protected email address]
Phone: 133 OHO (133 646)
CONFIDENTIALITY AND PRIVACY
Our practice collects personal health information and safeguards its confidentiality and privacy in accordance with guidelines developed by The RACGP for general practices to assist compliance with the requirements of the Australian Privacy Principles (APPs).
The practice has a documented privacy policy for the management of patient health information based on current guidelines. The Guidelines are available at www.oaic.gov.au.
Should you require any specific information regarding how your health information is handled, please ask our reception staff for further information.
Notice: At this practice Doctors do not prescribe S8 Drugs (e.g., Morphine, Endone, Oxycodone etc.)